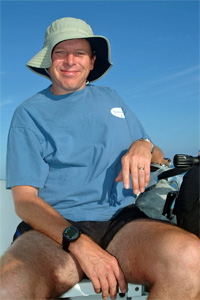 About the Photographer
Randy Hodge lives in Orlando, Florida with his wife Nina and two dogs.  Certified to dive in 1990, Randy has logged over 500 dives in exotic locations throughout the Caribbean and South Pacific. 
Randy's first taste of underwater photography came in the mid-90's.  "I shot slides with a used Nikonos IV-a and achieved modest results.  I really got away from underwater photography when the dedicated flash on the old Nikonos flooded on a trip to Little Cayman Island.  In 2002, I got the digital bug and bought an Olympus 4040 with a Light and Motion Tetra Housing.  I have since graduated to an Olympus 7070 Wide Zoom housed in a Light and Motion Tetra Housing with two Sea & Sea YS90DX strobes."
"I really enjoy the versatility of a housed digital camera for underwater photography.  The immediate feedback one gets through the LCD screen allows me to make exposure compensation and composition adjustments that just wouldn't be possible with a film camera.  More importantly, since the digital image also captures all the important information regarding aperture and shutter speed settings, I can learn from my mistakes."
Many of Randy's images feature his wife Nina as a model.  "Nina is one of the best divers on any dive boat.  She really makes it easy to get great shots since she is such a natural at getting into the right position and interacting with the marine life."
While Randy and Nina love diving anywhere in the world, their first love is Cozumel, Mexico.  They have a second home on the island and they spend as much time as possible diving on the Cozumel walls.  "The combination of current—which can present a challenge for an underwater photographer—walls, abundant marine life, and crystal clear water is in my mind a perfect combination.  If I had to choose one location to dive the rest of my life, I think it would be here."  Randy and Nina dive in Cozumel with Liquid Blue Divers which is in their opinion, the finest boutique dive operation in Cozumel.  In fact, many of Randy's images are featured on Liquid Blue's website www.liquidbluedivers.com.
This site features some of the images Randy has captured on dives in Cozumel, Mexico, Little Cayman Island, and in French Polynesia.  The images are copyrighted and for your viewing enjoyment only.  For information on licensing any of the images on this site or to obtain high quality prints suitable for framing contact info@h2odigital.com.